PFT Endorsements for PUSD School Board Election

PFT is pleased to announce the endorsement of Kevin Juza for PUSD School Board in Area B! Kevin is a strong advocate for students and teachers, knows a great deal about our organization and how we work successfully with the district, and is dedicated to making a positive difference on the Board. He is putting in the work to learn more every day and to earn the vote of community members in Area B. A Candidate Forum, PFT Rep and member feedback, one-on-one interviews, and a completed written questionnaire were all considered in the decision to endorse Kevin.


| | | | | |
| --- | --- | --- | --- | --- |
| Area B | | Area C | | Area D |
| Ginger Couvrette | | Terry Norwood | | Michelle O'Connor |
| Kim Garnier | | Charles Sellers | | Stan Rodkin |
| Kevin Juza | | T.J. Zane | | |

As we shared in a previous email, your elected Executive Board has offered a Friendly Endorsement to the incumbent candidates in Areas C & D highlighted above. They have consistently supported students and teachers in Poway Unified during their term.

---
PUSD School Board Election Campaign: Social Media

We need your help to elect candidates for the PUSD School Board that support students and teachers! Please convert your Facebook, Instagram, and Twitter profile picture, and your YouTube Channel thumbnail image to the PFT Campaign icon (below) to help spread the word about our support for Juza, O'Connor-Ratcliff, and Zane. If you are willing to make these changes as soon as possible, it will allow the icon to be seen by more people in the community as you share, post, like, and comment on the various social media channels.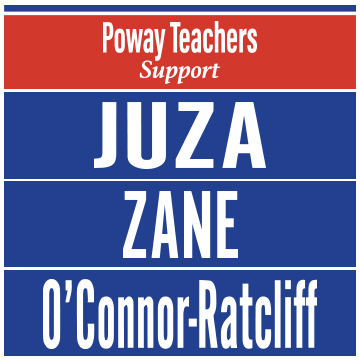 To use the above icon, simply right click and "save as" onto your computer to be used on your various profiles.

---
FLEX TIME Reminder

Are you already engaged outside of your work day in collaborative activities focused on enhancing learning for your students? If so, this time may qualify as FLEX TIME. PUSD and PFT are excited to continue the FLEX TIME professional learning model for 2018-19. FLEX TIME is our 188th paid teacher work day and provides an opportunity for teachers to select both the content and configuration of seven hours of collaborative professional learning activities.

Below you will find a link for the PLANNING AND REFLECTION sheet, with possible ideas for qualifying FLEX TIME activities on the back side. The deadline for the planning section of the form is Oct. 31, 2018, and plans can be modified and resubmitted for approval if a more meaningful opportunity presents itself after Oct. 31, 2018 FLEX TIME activities must be completed between 7/1/18–6/30/19.

Click here for PLANNING AND REFLECTION sheet
---
Classroom Supplies using Online Donation Site

What teachers need to do first to be eligible for donations: Go to www.pusddonate.org. Click your grade level (elementary, middle, high), click your "Site", click "Teachers". Please be sure your name is listed. The website is linked to the district's payroll system. Therefore, the donation website uses the same name you are using for payroll purposes (legal name). Unfortunately, we cannot change that name.

What the Online Donation website provides:
1. Parents have the option of donating directly to their child's teacher(s), program, department, grade level, program, or the school site's general fund using this online donation website. The website is designed to provide parents with an easy and convenient way to help fund our instructional supply needs. Teachers and schools have received more than $100,000.00 in donations using this website. It works.

2. Parents may access the donation website by going to www.pusddonate.org. Parents receive a tax deduction and email confirmation when donating. The website also includes a "Matching Gift Program" if a parent's employer provides that benefit.

3. Teachers receive an automatic email confirmation stating the amount of the donation, donor's name and email, and student's name, if provided by the parent. Our District uses a spam filter. Therefore, to receive confirmation emails from the donation site you must check your spam folder. When you see the link, pusdonline@firstlinemerchant.com that's the Online Donation secure banking (when using a credit card) email address. Please "whitelist" this email address. For accounting purposes, your site finance clerk or site secretary receives a monthly report of all donations. If you have not received an email confirmation but think you have received a donation, check with your site secretary or finance clerk.

Donation: Teachers access these donations the same way they would their regular supply budget/s at the site.

COMMUNICATION STRATEGIES: Teachers may communicate this website to parents via their MyConnect site, newsletter, and/or during Back-to-School Night (see Common Message on Q&A attached). To promote greater equity among all our classrooms, we suggest grade-level teams or departments come together to identify their "collective" supply needs and request donations be made to the grade-level or department, rather than individual teachers.

Please note: Donations to this account may only be used for instructional supplies (e.g. school supplies, software, workbooks, art and science materials…). If requesting donations for technology, check with your principal. The primary function of your site Foundation is to purchase software and technology and teachers should be coordinating their efforts.

Field Trip Fees: The Classroom Supplies ~ Online Donations website now offers the option of collecting Field Trip fees. More information and directions for teachers will be coming soon in a separate email.

I've attached an FAQ and a handout you may wish to provide to parents. Questions or concerns, contact Kris Hizal PFT Director, khizal@powayteachers.org or khizal@powayusd.com

Attachments:
FAQ Classroom Supplies
CSOLD Parent Handout

In Unity,
Kelly